Courses run over an 8 week period, 1 hour per week. Cost for Aerial Silks is $230 (a $115 non-refundable deposit is required to secure your spot in class). However, if you combine Aerial Silks with Pole, you get Aerial Silks for only $160 - that's right, pay only $160 to get yourself fitter and stronger!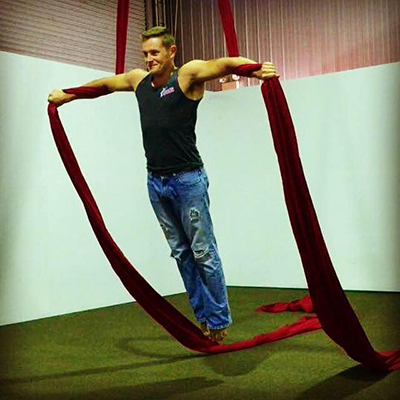 Aerial Silks (Adamstown and Morisset): Aerial Silks will teach you how to wrap, suspend, fall, swing and spin your body into beautiful positions using the silks. You will quickly build up your strength, power, flexibility, courage and grace when learning this circus apparatus. NO experience necessary.

Classes are catered for all skill levels and ages, female and male students welcome.

We have thick landing mats and scatter mats to ensure that you are fully protected, especially essential when learning new tricks! So rest easy with the peace of mind, knowing that you are in safe hands when doing Aerial Silks at Bella's Pole Studio.

When coming to class, make sure you wear long tights, preferably with stirrups so that the tights don't get caught up in the fabric.